Discover a new you with a healthy lifestyle change
TLS 21 Day Challenge Kit
sku C21DAY
$295.85 CAD

$252.09 CAD

You save:

$43.76 CAD (15%)

This product qualifies for free or reduced cost shipping. Learn More
Benefits
---
TLS Nutrition Shake
A healthy meal-replacement shake
Great tasting nutrition shake available in two flavours: Chocolate Delight and Creamy Vanilla
Includes 25 vitamins, minerals and essential nutrients, including B vitamins and also antioxidants vitamin C and E
Excellent source of fibre
Packed with 18 g of high quality soy protein to handle your hunger
Contains Fibersol-2®, a 90% highly concentrated form of dietary fibre
When used in conjunction with regular exercise, may contribute to weight loss or weight management
Useful in weight reduction only as part of an energy-reduced diet
No colours added
Source of calcium
Low in saturated fat
Gluten free
TLS CORE Fat & Carb Metabolizer
Helps improve (postprandial) glucose metabolism (within two hours after a meal)
Helps the body to metabolize carbohydrates
Helps the body to metabolize fats
Helps reduce the (enzymatic) digestion of carbohydrates
A factor in the maintenance of good health
Isotonix Multivitamin
Helps to maintain vision, skin, membrane and immune functions
Helps in the function of the thyroid gland
Acts as an antioxidant for the maintenance of good health
Helps the body to metabolize proteins, fats and carbohydrates
Helps in the normal development of bones, cartilage, teeth and gums
Provides support for healthy glucose metabolism
Isotonix OPC-3
Antioxidant for the maintenance of good health
Contains isotonic-capable Pycnogenol, renowned for its extensive clinical research with more than 120 studies published in peer-reviewed medical journals
Also contains red wine extract, grape seed extract, bilberry extract, and citrus extract (bioflavonoids)
*You should consult your physician before beginning this or any other weight-management program.
Why choose the TLS 21 Day Challenge Kit?
---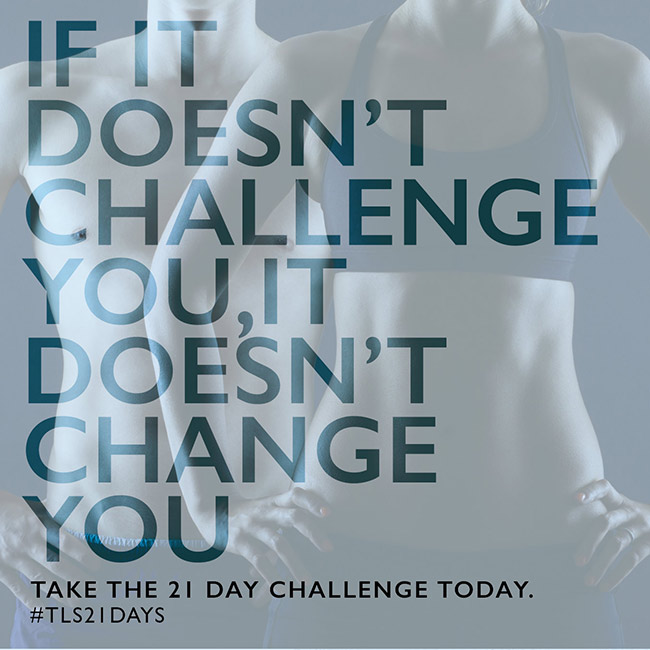 Nowadays, weight management is depicted as a battle with complex programs, extreme exercise classes, highly restrictive diets and expensive gadgets. We believe weight management should be simple. Our lives are stressful enough without adding in complicated weight management regimes — getting in shape should be straightforward and achievable for everyone. Which is why we've developed the TLS 21 Day Challenge Kit, designed to make getting back on track to health and wellness a cinch.
Inside the 21 Day Challenge Kit you'll find the 21 Day Challenge Guide, because weight management is a journey and you need a guide. This contains all the information you need to start your Challenge. . In addition, the kit also contains a Tracking Sheet, TLS Shaker Bottle and a "Drop and Give me 21" Button. The kit also includes five of our most popular products to enhance your weight management efforts and nourish your body with essential vitamins, minerals and nutrients.
During the cleansing Phase 1 of the TLS 21 Day Challenge, the recommended supplements are TLS CORE Fat & Carb Metabolizer, Isotonix Multivitamin andIsotonix OPC-3. TLS CORE Fat & Carb Metabolizer is designed to help your body metabolize carbohydrates and fats during Phase 1. We've also included Isotonix Multivitamin, which delivers 100% or more of most of the recommended daily value of essential vitamins and minerals. It also contains vitamins that support the body's ability to metabolize fats and carbohydrates in support of healthy body weight.To round off your nutritional needs in Phase 1, we've added Isotonix OPC-3 to help fight free radicals in the body.
For the fat-burning Phase 2 of the TLS 21 Day Challenge, the recommended supplements are TLS Nutrition Shakes, TLS CORE Fat & Carb Metabolizer, Isotonix Multivitamin andIsotonix OPC-3. The delicious TLS Nutrition Shakes are formulated to deliver an optimal balance of protein, carbohydrates and fats in every serving during Phase 2. These shakes are perfect for anyone who finds it difficult to get the recommended daily amount of fibre and protein. For best results we suggest the continued use of TLS CORE Fat & Carb Metabolizer, Isotonix Multivitamin andIsotonix OPC-3 during Phase 2.
When used as directed, these products provide all the essential elements needed to maximize your weight management success. Refresh your system and reach your weight management goals with this great new kit from TLS Weight Management Solution.
Join the TLS 21 Day Challenge!
---
FAQs
---
Who can use the TLS 21 Day Challenge Kit?
Anyone over the age of 18 years — whether you want to tone up, have 2-9 kilograms (5-20 pounds) to lose or want a jumpstart before you begin another TLS program. You should consult your physician before beginning this or any other weight-management program.

How many times can I take the TLS 21 Day Challenge Kit?
While you can stay on Phase 2 of the kit for as long as you would like, we advise repeating Phase 1 no more than every 3 months, or as recommended by your health care provider.

Are the Nutrition Shakes to be used as a meal replacement or as a snack?
During Phase 2 of the kit, the Nutrition Shakes are recommended as snacks. However, they can be used as a meal replacement in a pinch. We suggest enjoying the Nutrition Shakes with 2 cups of vegetables, such as spinach or kale. Nutrition shakes should only be mixed with water when using the TLS 21 Day Challenge Kit.

Do I have to take all of the recommended supplements?
For the best results we suggest using all of the recommended supplements. Success stories from the TLS 21 Day Challenge were based on participants utilizing the recommended supplements.

Can I use other TLS or Market America products during the Challenge?
The TLS 21 Day Challenge Kit provides all the recommended supplementation you need for the Challenge. However, you may use the optional supplements listed in the TLS 21 Day Challenge Guide for additional support, or other supplements if necessary.

Why is detoxing important?
Detoxing assists with improving your metabolism, curbing your cravings and kick starting your weight management. It's important to detox because overeating, consuming unhealthy foods and sugary drinks burdens your digestive tract and liver. Overtime, this can lead to poor digestion and the inadequate absorption of nutrients. Foods like refined grains, starches, sugars, and unhealthy fats do not give your body the nutrients it needs. This causes you to feel hungry, tired and bloated — forcing your body to stayin fat storage mode. Your digestive tract and liver work together, so when one is stressed or overworked the other is too. One of the consequences of having an overstressed or toxic liver is that it becomes so overloaded that it can't fully metabolize fat, which causes vitamin deficiencies and poor digestion.

Is it normal to feel tired during Phase 1 of the TLS 21 Day Challenge Kit?
Yes, during Phase 1 your body is flushing out toxins and refreshing itself, which can cause fatigue. However, midway through Phase 1 you'll experience less bloating and increased energy levels.

What support materials are available for the TLS 21 Day Challenge Kit?
Support materials include the TLS21 Day Challenge Guide, overview video and the before and after photograph tutorial video. Additional support is provided through your tlsSlim.com subscription, TLS social media pages, TLS Health Guide & Journal and your TLS Coach.

Can I eat other vegetarian proteins not listed in the TLS 21 Day Challenge Power Foods list?
Yes, clean vegetarian proteins are allowed. Spirulina, chia seeds, organic non-GMO tempeh, and pea and rice protein powders are all great alternatives.

Do I have to exercise while using the TLS 21 Day Challenge Kit?
Exercise is recommended during Phase 2, but not Phase 1 of the Challenge Kit. During Phase 1 strenuous exercise must be avoided, rather enjoy light, gentle stretching or yoga. In Phase 2 exercise is required. While each person may be at a different level, for overall cardiovascular health, the Public Health Agency of Canada recommends at least 2.5 hours of moderate to vigorous intensity aerobic activity every week, combined with muscle-strengthening activities 2 days a week.† If you currently exercise more than the recommendations, it is advised to maintain your current plan. It is important to consult your health care provider before starting any weight management or exercise program.

†SOURCE: http://www.phac-aspc.gc.ca/hp-ps/hl-mvs/pa-ap/index-eng.php http://www.phac-aspc.gc.ca/hp-ps/hl-mvs/pa-ap/07paap-eng.php

*Individuals following the TLS Weight Management Solution as part of a healthy diet and exercise program can expect to lose 1-2lbs (0.45-0.9kg) per week.
Reviews
Write A Review
Real Food,Easy to follow and Great results!
Best products for kicking off detox, fat loss! I lost 8 pounds,most importantly, I lost inches through this challenge! I got my confidence back and start to living a healthy life style! I strongly recommend you to try it . You will love it!
I've fluctuated up 20 and down 20 lbs for years. I had the will power but didn't know why the pounds kept creeping back. TLS is about education and being prepared to eat the right things. Learning about how the wrong choices set you back was surprising to me. Now I know how to eat and enjoy eating a lot more. I lost about 6 lbs and 6 inches during the 21 day challenge and now am losing 2 to 3 pounds a week. Special occasions don't worry me anymore as I don't want to go crazy and have a setback so I choose the better and limit the worse foods for me. Thank you TLS!
when I hit my 50's I gained 44 pounds almost overnight. Most of it went right to my belly. No matter what I tried, personal trainer (6 months), Frozenfood delivery (6 months), weight watchers, Atkins, exercising like crazy. The only noticeable weight loss was from my pocketbook. I tried TLS and lost 2.75" off my waist after 1 week! Finally the when is baby due comments stopped. After week 3, I lost 12 pounds and 12" overall...5" off my waist alone!
It was very easy and now I really don't have to have my rice everyday, my lifestyle is changing.
THE 21 DAY CHALLENGE WORKS!!
I did the 21 Day Challenge last November and lost 11 lbs. I recently plateaued so I am completing the 7 day cleanse portion of a new 21 Day Challenge and have lost 6 lbs. so far. It's a change in eating habits that is well worth it. I have more energy and look better. The only downside is having to buy some new pants and shorts. SHOP.com here I come!